If you are looking to purchase real estate in Vancouver for your child or yourself that will be attending UBC (University of British Columbia), there are a few things to consider. While this article does provide information and guidance buying real estate in Vancouver for UBC. It is in no way a substitute for receiving professional legal advice. Meaning it is important to seek independent legal advice before moving forward on a purchase.
Purchasing a home on University/UBC lands in Vancouver West
When considering purchasing real estate in the UBC/University area of Vancouver West, there are two prominent types of ownership available for purchase. These are leasehold and freehold.
Leasehold vs Freehold
There are three types of leasehold: private, public & first nation. For this article we will be focusing on private. Buying a leasehold property, you purchase the rights to live in the home for a limited period of time. For example, in UBC the period of the lease is usually 99 years.
While a freehold interest, the owner has continuous use of the land subject to local bylaws and other restrictions. Freehold interest is also known as a fee simple interest.
For further reading on different types of homes and ownership, please read RECBC's article on buying a home.
When does a leasehold start?
As mentioned above, leasehold periods for Vancouver Westside real estate in UBC usually has a period of 99 years. However, that does not mean that the 2nd owner of that home will get the full 99 years. As a buyer of a previously owned leasehold property, you are only buying the remainder of the lease. This means that the original owner may have the longest period of 99 years. But any subsequent owners will have a shorter period.
What happens at the end of a leasehold period?
There are renewal options and/or buyout options that are provided in the lease. Therefore it is always advisable to review the lease with a lawyer prior to purchase. Another option would be to have reviewing the lease as a subject in the offer.
The value of leasehold
Leasehold properties can be considered unwise investments. The reason being as time passes the length of the lease decreases. This can sometimes make leasehold properties less desirable.
For further reading, Pazder Law has written an amazing article in regards to leasehold properties.
Is all Vancouver Westside Real Estate Leasehold in UBC?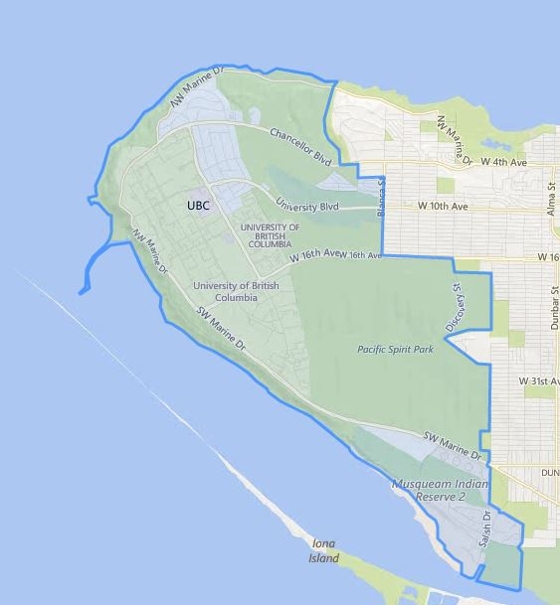 While homes in UBC can be leasehold, not all real estate in the University area of Greater Vancouver is leasehold. There are some homes that are freehold. Working with a REALTOR® can help you determine the property's ownership.
Click here to view active listings in the UBC area.
Vancouver real estate near transit to go to UBC
Understandably, purchasing real estate in UBC is the first option your mind goes to. But Vancouver has amazing transit options that go directly to UBC. This opens more possibilities for finding homes that could work for future and current UBC students.
99 UBC B-Line
One of the more recognizable routes to go to UBC. This direct bus line travels from Lougheed and Boundary along Broadway all the way to UBC's bus loop. The 99 B-Line travels through Point Grey, Kitsilano, Fairview, Mount Pleasant, Renfrew and Renfrew Heights. Depending on where you start your route, the ride could be around an hour.
33 UBC
Another bus route that goes directly to UBC is the 33. On the Westside of Vancouver, this bus travels through Point Grey, Dunbar, Kitsilano, Shaughnessy, Fairview and Cambie. While on the East Side of Vancouver the route goes through Main, Fraser, Knight, Victoria, Collingwood and Renfrew Heights. Transit time could be less than an hour.
25 UBC
From the statistics provided by the Real Estate Board of Greater Vancouver, Vancouver prices tend to be higher than Burnaby's. Burnaby could be a great option if you want to look for something more affordable.
The 25 begins at Brentwood Bay 5 and travels along 22nd and King Edward Ave all the way to UBC. In North Burnaby, the 25 passes through Brentwood Park. In South Burnaby the bus passes through Central Burnaby, Greentree Village and Burnaby Hospital. East Vancouver the route passes through Renfrew Heights, Grandview, Victoria, Collingwood, Knight, Fraser and Main. On the Westside, the route goes through Cambie, Shaughnessy, Quilchena, Arbutus, Mackenzie Heights and Dunbar. Travel time can be longer. The ride may take an hour and fifteen minutes if starting in Burnaby.
The Millenium Line Extension
There are skytrain routes that lead to UBC buses but as of today there aren't any skytrains that go directly to UBC. The city is planning on adding a train that goes directly to UBC. Although that might not complete for a long time.
Click here to read more about the Millenium line extension.
Buying Vancouver Real Estate for UBC
There are numerous options when buying Vancouver real estate for UBC. Instead of purchasing a leasehold property you may want to consider freehold. Purchasing a home in Vancouver requires a strong team to guide you along the way. You may want to consider hiring a lawyer, mortgage broker and REALTOR®. If you need guidance on where to start, please feel free to contact us! We're happy to help!
Call 604-719-7684 or email Info@HofVan.com.