Ron Sowden, long time home staging professional, sheds light on what challenges the industry has faced, how our behaviours are changing and shaping the way that we find comfort at home, as well as a great perspective on what it is like to live and do business in the Vancouver/ Burnaby Heights neighbourhood.
We are so lucky to have been given a really unique perspective by Ron, learning about his business Dekora and taking a look through the inspiring work they have put up throughout 2020. We love working with Ron as he stages our beautiful listings. It is especially insightful to learn from somebody who sees the winds of change and adapts their business approach to it, particularly when sometimes we are riding these winds ourselves and not necessarily looking around to notice how far we have come and why.
We asked Ron a series of questions about Dekora, home staging, industry trends and life in Burnaby, so let's get right to it!
Meet Ron Sowden.
Ron has been in the home staging world since it started in Canada, around 18 years now. His business Dekora Home Staging and Interior Design is right on the edges of the Burnaby/ Vancouver heights neighbourhoods at Bridgeway and Skeena Street.
"Having worked here for decades, this North Burnaby neighbourhood has become somewhat of a second home for me," Ron tells us.
Dekora Home Staging and Interior Design.
Dekora has been in business since 2003 and is now one of the leading home staging businesses in Western Canada.
"We introduced home staging to the Metro Vancouver market, our success led to the opening of a second branch in Calgary in 2008," Ron notes. Today, Dekora's main business remains home staging, but having developed strong eyes for detail and an understanding of what styles people gravitate towards, Dekora now offers interior design and furniture/ decor sales to both consumers (homeowners) and businesses (builders/ developers).
"As well as private homeowners, we work extensively with home builders and developers furnishing show homes, display suites and custom spec homes." One such project, described in Dekora's blog "A Year in Review: Looking Back at 2020," involved staging the Heritage on West 16th Avenue transformation project. Dekora were a pivotal part of the process in which three heritage homes were transformed into 12 new townhomes and infill coach house units. This required a unique balance between historic architecture and contemporary tastes and needs, a balance that Dekora struck perfectly as seen in the image below. For the full article, click here.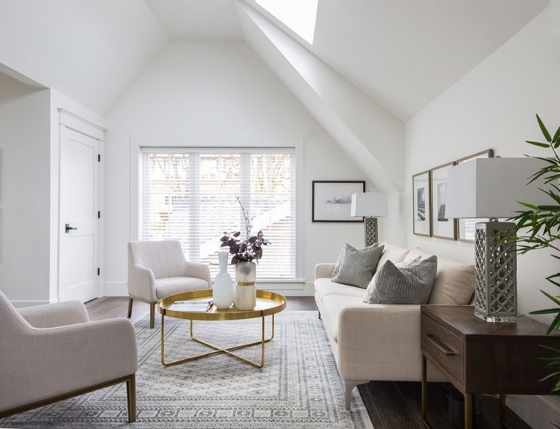 We asked Ron which were his favourite projects over the recent years. "Favorite projects? Well, they number in the thousands! Recent local ones to point out could be the presentation centre and show suites for Belford Properties Sun Towers at Metrotown, and the charming Smith + Norfolk townhomes in Burnaby."
The impact of COVID on homeowner needs and tastes.
Dramatic effects were felt across multiple industries, for Ron and Dekora, they saw behavioural patterns emerge as a direct result of changing needs which puts them in a unique position.
"Since COVID landed on us all, there was an initial drastic slowdown, but that was followed by a lot of activity in home sales, driven by changing needs of people now working from home and seeing opportunities to initiate change to their lifestyles and living accommodation," Ron tells us.
"We witnessed first hand the movement of populations from core-area condos to larger homes or townhomes away from downtown – like Burnaby for instance."
Where does home staging fit in the real estate industry?
With so many people now working remotely, Dekora are staging home offices and work spaces at every opportunity to show home buyers the live/work potential, particularly in condos.
Statistics have for many years demonstrated that well-staged and presented homes sell faster and for more money, than non-staged homes. We work directly with Dekora as they showcase our beautiful listings – and with great results. Builders and developers also recognize the value and upside potential of an investment in staging.
Ron argues the return on investment can be compelling, and it is easy to see why when looking through their portfolio.


"Our tagline is "Love at first sight," and that is exactly what we aim to achieve for potential buyers. We really focus on envisioning the target buyer for each home we stage, and styling an environment to appeal to them – and ideally a home that they can fall in love with."
Ron continued to tell us there is a nice range and variety of homes in the Heights – from lowrise to highrise condos, townhomes, beautiful heritage homes and lots of great new homes. Something for everyone, which contributes to the rich, diverse community known across this area, and Burnaby as a whole.
New trends in the ways in which we design our home spaces.
The months of COVID have impacted all of our lives, Ron notes that many more people are focussing more on their homes now, considering that they spend so much more time at home, and have had to integrate things like work, fitness, recreation into the home.
More space has been at the top of many wish lists, and that has driven a lot of activity in the Burnaby real estate market. Ron has also seen a really interesting increase in our focus and investment in comfort and style.
"When we spend so much more of our time at home, we value it more."
Why is Burnaby such a great place to live and work?
Ron begins to circle back to comments made at the beginning.
"There is a diverse variety of housing options, and that makes for an interesting, vibrant community."
"The Heights area exemplifies that diversity and Hastings Street is one the lower mainland's great "high streets" with its wonderful mix of businesses, shops and restaurants."
Ron has seen a lot of change over the years with so much new development, but notes that the area has evolved along with the growth and continues to be vibrant and desirable. "In fact, Burnaby Heights was exactly the place that my close family friends – a young newlywed couple – most wanted to make their home, and they just recently bought a charming older house across from Burnaby Heights Park on Trinity Street! A perfect example!"
We'd like to thank Ron for introducing us to Dekora Home Staging, and shedding light on his perspective of human behaviour change and the charm of Burnaby. Be sure to check out Dekora's website for inspiring images, or to learn more about their services.
If you've been inspired to learn more about Burnaby real estate, the unique neighbourhoods in Burnaby, or the diverse community, reach out to us, we would gladly help you out.
If you have a story you'd like to share about living or doing business in Burnaby, reach out to us!