After one full month of BC's shutdown due to the COVID-19 crisis, the numbers for April 2020 may surprise you.
Lower Number of Sales for April Average
According to the latest stats package from the Real Estate Board of Greater Vancouver, the sales for April 2020 was the lowest the month has been in 10 years for the April sales average. This April was 62.7% below the 10-year April sale average. This is the lowest this month has been since 1982.
The number of sales and listings declined. This was not unexpected due to COVID-19.
"Predictably, the number of home sales and listings declined in April given the physical distancing measures in place," Colette Gerber, REBGV's president-elect said.
April 2019 had 586 detached sales recorded. Detached sales for April 2020 totaled 338. A 33.8% decrease compared to the same time last year.
There were a total 503 sales of apartments in April 2020. A 43.2 per cent decrease compared to the 885 sold homes in April 2019.
Attached homes in April 2020 had a total of 218 sold. A 39.1 per cent decrease compared to the 358 sales in April 2019.
Home Prices in April 2020 Remained Balanced
The benchmark price of detached homes was $1,462,100. An increase of 0.8% compared to March 2020.
Apartments had a benchmark price of $685,500. Compared to March 2020 this is a 0.2% decrease.
Attached homes had a benchmark price of $796,800. A 0.6% increase compared to March 2020.
Markets like Burnaby South and East Vancouver actually increased in benchmark pricing.
New Ways to Market your Home
Our goal as REALTORS® is to use the latest technology to market your home safely. Using technology like Matterport allows buyers to virtually walk through the home.
Click to see how we used Matterport to showcase a North Vancouver townhome.
Depending on the home, we also use doll house floor plans to give potential buyers a feel of the house.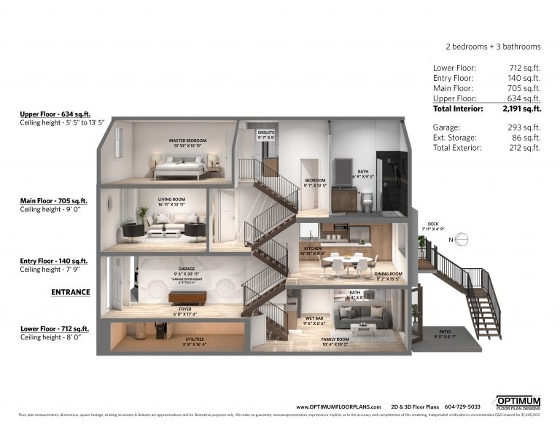 Dollhouse Floor Plan provided by Optimum Floor Plans.
Providing buyers with as much information before a showing can helps buyers make informed decisions.
For the latest stats from the Real Estate Board of Greater Vancouver, click here.